What's New
Posted on September 3, 2019
Authenticity Seal on Goldsmith Titles Published by Acropolis Books
As you may know, Acropolis Books has designed beautiful new covers for the Joel Goldsmith books that they publish.  The cover designs were thoughtfully created to differentiate the various types of books.  For example, books that were compiled from Infinite Way Letters now have covers in the same format—an inspiring nature photo in the upper area of the cover, with the title on a solid background in the lower area:
Books that are "Joel's classics" have a very classic look.  For example:
All the pamphlets, too, have consistently formatted covers: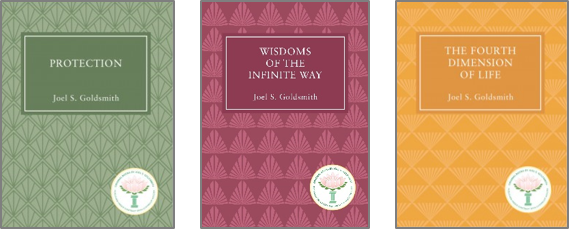 Notice that all of the new covers include an "authenticity seal":
This seal identifies the book as one published by Acropolis Books, the publisher of record for Joel's books under contract with the Estate of Joel Goldsmith.  The seal is your assurance that you are getting the authentic version of the book.
Over the years, other publishers, who do not hold the legal publishing rights for Joel's books, have been selling their versions of Joel's books.  Some of these versions have altered text or are incomplete.  Unfortunately, many of these are available for sale on Amazon and other e-retailers and may come up when you search for a Goldsmith title.
To be sure that you are getting the original, authentic book, always look for the authenticity seal on the cover.
You can always find the authentic version published by Acropolis by going to the Acropolis Books website at www.acropolisbooks.com and clicking on "SHOP" in the menu at the top of the home page.  This will display a page showing all the books.  Click on the book you wish to consider, and you will go to a "book detail" page, which provides direct links to e-retailers for that book.  There are links for both e-books and print books.  When you use those links, you automatically go to the e-retailer page for the authentic version of the book published by Acropolis.
Acropolis Books does not have the print publishing rights (although Acropolis holds the e-publishing rights) to four Goldsmith Books:  Collected Essays, Spiritual Power of Truth, Spiritual Interpretation of Scripture, and The Infinite Way.  These are published by DeVorss and at the present time, do not have the authenticity seal on the cover.  However, to be sure you are getting the authentic version of these books, simply use the links on the Acropolis Books website as described above.
Posted on September 1, 2019
We have posted a new recording related to world work.